Truth: you don't have to struggle to study the Bible. There's a better way.

Truth: you don't have to struggle to study the Bible. There's a better way.
The Bible Study has helped over 50,000 people better understand God's Word and know how to apply it in their own lives. Get your 2-Book study today!
The Bible Study has helped over 50,000 people better understand God's Word and know how to apply it in their own lives. Get your 2-Book study today!
Imagine deeply KNOWING God's Word and what it means to you
(without having to feel overwhelmed ever again).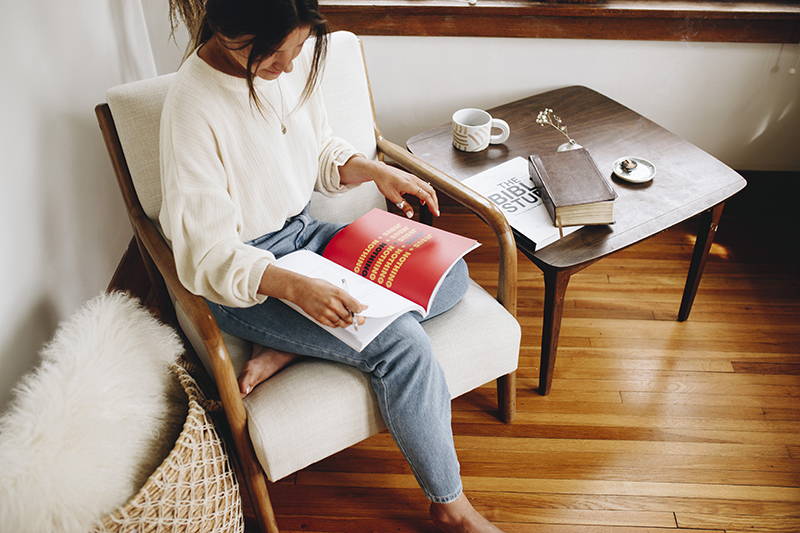 As a believer, you know the importance of understanding the Bible.
You also know that reading the Bible and understanding it are two very different things.
If you're anything like me - you are somewhere in the middle.
Having read parts of the Bible (or maybe all of it) but not sure how to relate it to your life today.
Or, having grown your connection with your church community but ready to grow a personal relationship with God and His Word.
Wishing there was a "simpler" way to study the Bible.
Something that made it all just WAY less overwhelming...
See why over 50,000 people are choosing The Bible Study to better understand the Word. 
Written by
an anonymous user
on
Customer Reviews
based on reviews
There are no customer reviews yet.
Thank you for submitting your review. Once it is approved, your review will show up in the list of reviews.
Submitting your review failed. Please try again.
1 Year to Better Understand The Bible

Covering both the Old and New Testament.
With reading recap and introspective questions to take the teachings further.

Making the 1 year study so easy to go through and stay motivated within.
This study is absolutely AMAZING
"Personally, I've been going to church my entire life, but I often felt as though there was so much that I didn't know. While I believe I have a strong faith, I could feel something missing. This study has truly helped me to grow my faith by diving into the Word and gain my own understanding. The outline is super easy to follow (especially if you have a busy schedule) and very enjoyable. Definitely recommend to anyone looking to strengthen or begin their faith journey!!!" - Brianna P.
How would your faith be different if you could…

Unpack God's Word and understand what it means to you.
Consistently dive into the Bible and be led by God.

Love the process of reading the Bible (rather than feeling overwhelmed, confused or lost).
I have some GOOD NEWS for you.
There's a better way to study the Bible and grow your faith... and, feeling overwhelmed is NOT required!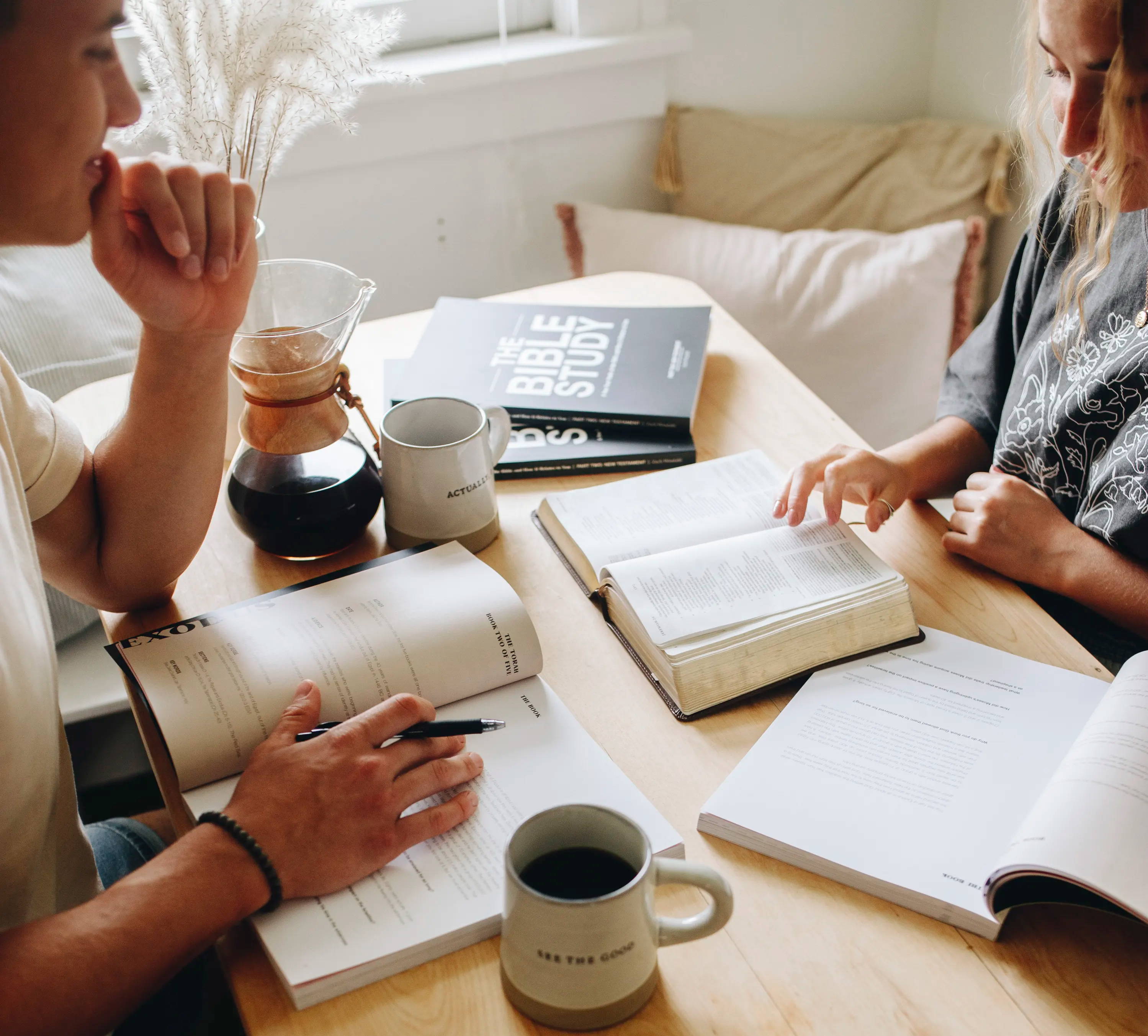 THE BIBLE STUDY HELPS READ THE ENTIRE BIBLE AND UNDERSTAND IT… IN JUST 1 YEAR!

Forget spending countless hours trying to unpack God's Word all on your own.

Stop trying to read it all on your own (it's a big book that was written many years ago - it's good to have support along the way!)

No more "rushing through the Bible" just to get through (without truly understanding the messages and applying them to your life).
Know your faith   Grow closer to God    Spread hope to others
What's included in The Bible Study?
Weekly reading plans.

Covering both Old and New Testament

Supportive teachings and reading recaps

Thought-provoking questions and exercises to take your understanding deeper and higher

"Coffee-table-approved" design and feel to keep you engaged and motivated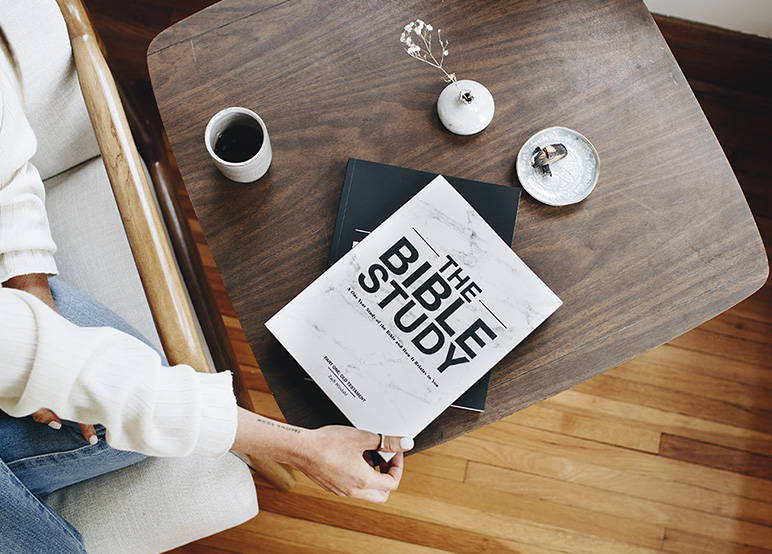 Designed to Not Overwhelm
With a weekly rundown and reading recap to help you stay "on-top-of it".

Each week you'll study 1-3 books of the Bible.

Fits In Your Busy Schedule
The Bible Study was made for crazy schedules. Choose when you want to dive into the work and carve out your schedule that best suits you!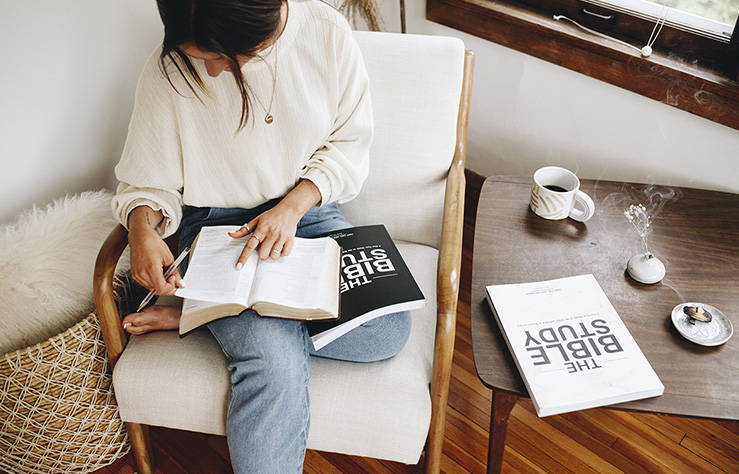 You will love The Bible Study if…

You are ready to take your faith deeper and higher (by better understanding the Bible).

You are tired of feeling overwhelmed every time you dive into the Word.

You want a Bible Study that you just LOVE opening up and diving into (with aesthetically appealing pages, design, etc.)
→ Dive into God's Word with joy and excitement
(Rather than feeling overwhelmed or like you are just trying to "get through it" to check it off but not actually understand it).
→ Easily remember and draw upon the Word in everyday conversations and life
(Because you went through an intentional study framework that helped you not only remember the teachings but also know how they relate to your life)
→ Deepen your relationship with your faith and your community
(Understanding the Bible is not always common amongst people of faith - giving you a chance to help others in their journey and share your own lessons along the way!)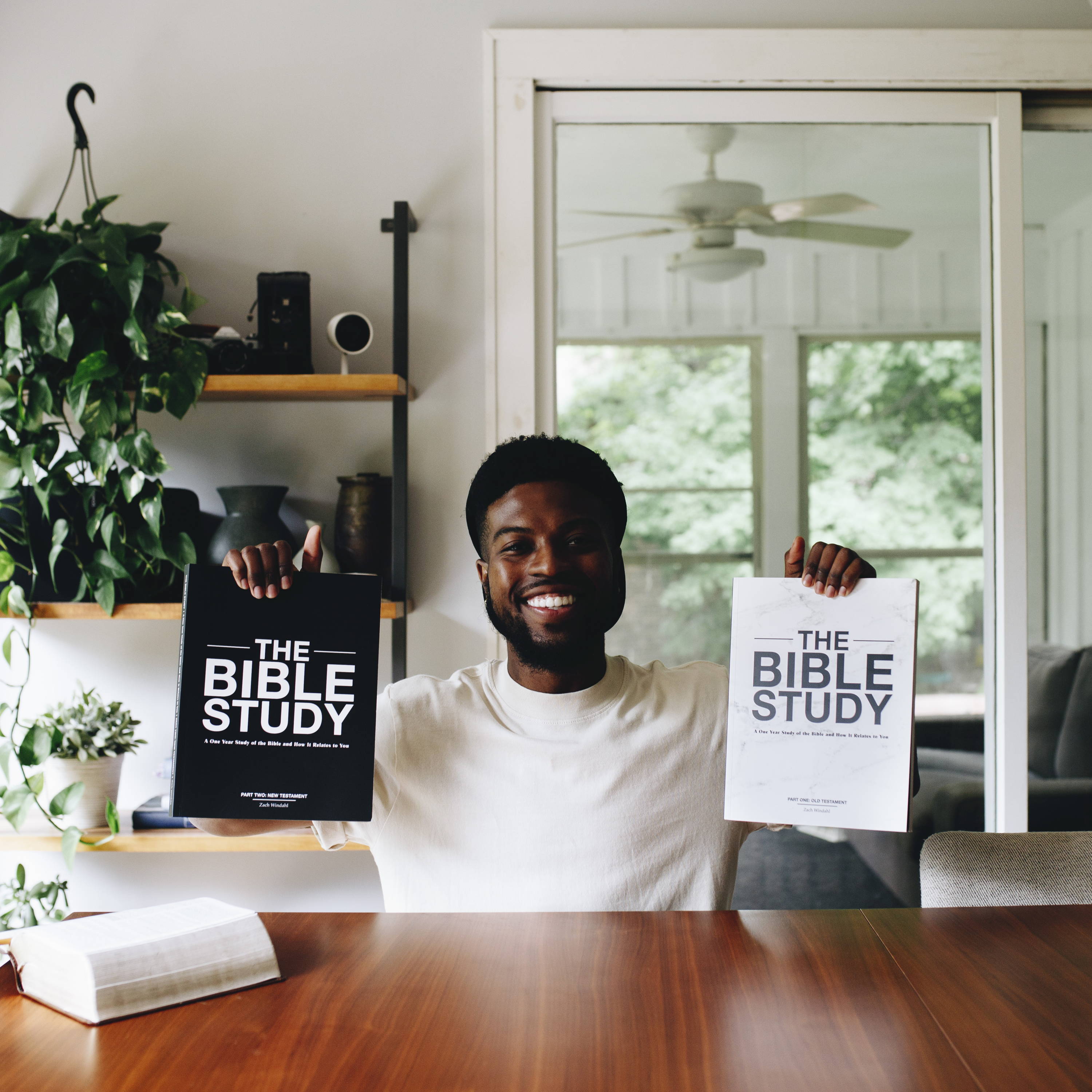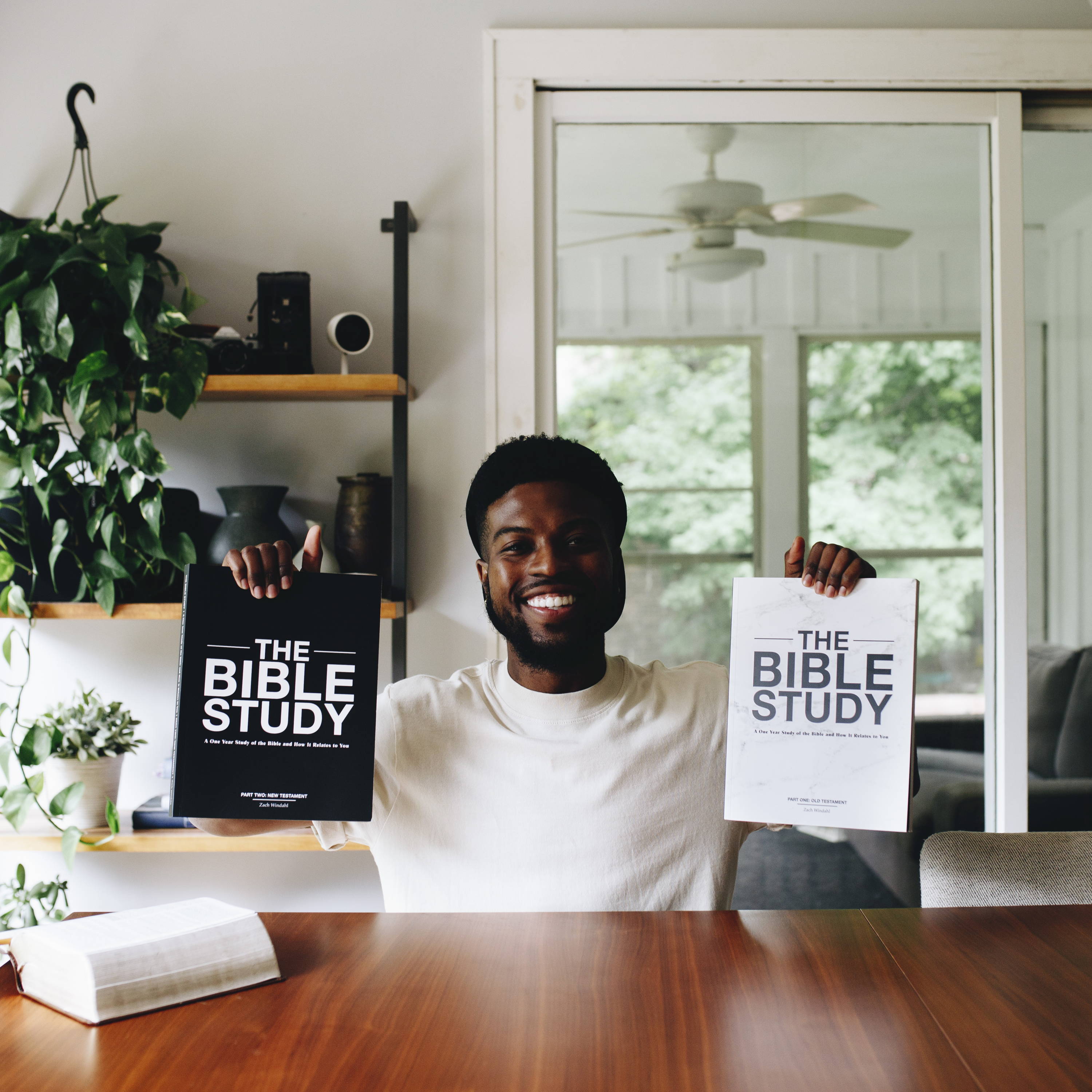 "I LOVE these books! I have been forced to think about the books of the Bible in ways I never have before! The questions are challenging and really cause you to dig deeper for a better understanding. I'm so intrigued by the answers I am able to come up with that I literally can't wait until my next bible study session! Thanks Zach, you're awesome!"
★ ★ ★ ★ ★
Kyndra
"I've just started the study and already I have gotten this hunger for the Word and I cannot get enough of this study. I needed something like a guideline to study the Word and this is exactly that. You will not be sorry."

★ ★ ★ ★ ★
Melissa
"I have really enjoyed going through the old testament book with a handful of students. They have stayed engaged and love the use of pictures to help connect. The questions are easier to relate to but challenge you to think about the scriptures."
★ ★ ★ ★ ★
Travis
Frequently Asked Questions
Why is The Bible Study two books?
One book is the Old Testament and the other book is the New Testament.
What version of the Bible does The Bible Study use?
You can use any translation you'd like alongside the study - we reference ESV, NASB, NIV, NLT, and the Message throughout.
How long till I receive my order?
It can take 2-4 days to ship out from our warehouse, we don't ship on weekends or holidays. USPS can take up to a day to scan the package after a label is made. In total, it can take 6-10 days to receive.
Shipping is $8.50 for both The Bible Study and The Bible Study x2!
What is the difference between the The Bible Study and the Youth Edition Bible Study?
The main difference is that the Bible Study is a 12 month study and the Youth Edition is a 90 day study. All overall content is the same and both include in-depth questions, colorful and engaging pages!
Is there a digital version available of The Bible Study?
Yes! We have a digital version available for purchase for those who prefer to follow along digitally. You'll receive a zip file with both PDF books. All content is exactly the same as the physical copy.