Customer Reviews
Write a Review
Ask a Question
12/28/2019
Torrie
United States
Focused and getting more out of the Bible than ever before!
I've been a Christian for 10+ years and really began submerging myself in The Word in the past three to four years. It's difficult to just "sit down and read the Bible", as so many mentors and guides and have told me from a place of caring. When this study popped up on Facebook, it was like an answer to a subconscious prayer. It didn't take long for me to understand why so many people had purchased a copy and were experiencing wonderful results; I purchased a digital copy and have been plugging away at Genesis. Already I've learned more from this book than I have ever in church pews or Sunday school classes. I'm thinking for myself, answering questions I've never heard or thought of, and actually understanding what I'm reading. I really enjoy being able to type out my answers on my computer; my husband and I can share the document together, both typing in different colors if we wish so we can see different interpretations. I'm really glad this came up and am excited to build Bible reading and studying into a daily habit.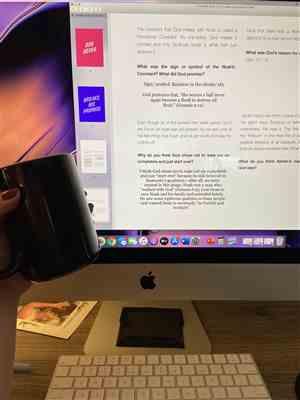 JB
12/04/2019
Jairus B.
United States
It's cool...I like the design...a
It's cool...I like the design...a good beginners guide...
11/04/2019
Angela R.
United States
Mom anfd daughter bonding
love that my mom and I can share in our journey to know God even at different level.
TM
09/04/2019
Tessa M.
United States
It's INCREDIBLE. Keeps things simple
It's INCREDIBLE. Keeps things simple but so so elegant. Also, the design is
07/03/2019
Sarah O.
United States
Love it!!!
I love it!!! Its been so great! Keeps me on track! Absolutely love it and am definitely recommending it to my friends!